On 30 March 2022, the DCP3 Review network of experts gathered in London to review lessons learned from six countries in developing Universal Health Coverage (UHC) Essential Packages of Health Services (EPHS). The meeting is part of the DCP3 Country Translation global guidance initiative, which aims to provide policy makers in low- and middle-income countries with practical advice on developing or revising their EPHS. Discussions covered pre-requisites for developing UHC EPHS, steps for prioritization, costing, fiscal space and budget appropriation, bridging the gap between package development to implementation, private sector roles, and monitoring and evaluation of EPHS. The experience and lessons learned from Afghanistan, Ethiopia, Pakistan, Somalia, Sudan, and Zanzibar in developing UHC packages based on the DCP3 evidence will be published in seven papers later this year.
The meeting started with discussions around country commitment and readiness, including pre-requisites for delivering services that are essential for accelerating progress to UHC. Country experts highlighted that while some low- and middle-income countries have developed basic packages of health services, these have not necessarily been developed from a UHC lens. "Stakeholders must be convinced that we need to change, revise or adapt from what exists to this kind of UHC health benefit packages. This could be one of the hurdles to implementation", said Wangari Ng'ang'a, senior health adviser in the Executive Office of the President in the Republic of Kenya.
Experts also proposed a step wise approach to designing EPHS and prioritizing health services in the package. This included setting up a robust governance structure, mapping and selecting services for evaluation, defining decision criteria, collecting evidence on decision criteria for prioritization and prioritizing services. Challenges and lessons learned in costing EPHS, fiscal space analysis, private sector involvement, and monitoring and evaluation were also discussed in detail. Experts highlighted the importance of incorporating issues related to implementation and monitoring and evaluation in the package development phases. David Watkins, Assistant Professor of Global Health at the University of Washington, reiterated that "monitoring and evaluation plans for EPHS implementation should not be an afterthought; they should be integrated into the UHC policy process from the very beginning".
The seven papers are expected to be ready for publication in the second quarter of 2022. They will provide much needed guidance to policymakers, Ministry of Health officials and other stakeholders in developing, reviewing or updating their national EPHS.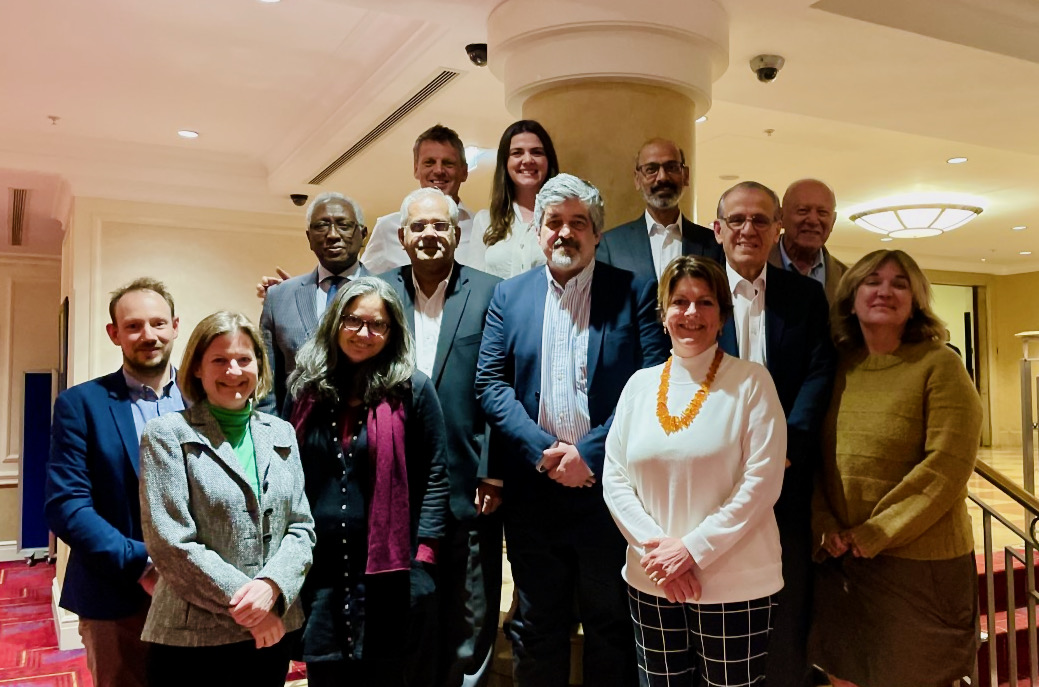 In-person participants. From left to right, bottom up: Anthony Climpson-Stewart, Jolene Skordis, Teri Reynolds, Jacque Mallender, Agnes Soucat, Mohamed Abdi Jama, Sameen Siddiqi, Reza Majdzadeh, Ala Alwan, Rob Baltussen, Ina Gudumac, Abdul Ghaffar, Manuel Carballo