On December 3, 2013, The Lancet published Global Health 2035: A World Converging within a Generation. This major new report was prepared by the Lancet Commission on Investing in Health (CIH), co-chaired by DCP3 series editor and University of Washington Professor Dean Jamison  and chaired by Lawrence H. Summers, President Emeritus and Charles W. Eliot University Professor of Harvard University, and former U.S. Treasury Secretary.
The Global Health 2035 report was released on the 20th anniversary of the 1993 World Development Report, published by the World Bank, which became a landmark in establishing the economic development case for global health expenditure.  Global Health 2035: A World Converging within a Generation revisits the case for investing in health and puts forth a bold new investment framework to achieve dramatic health gains by 2035.  The launch of the report and panel discussion was led by Dr. Richard Horton, Editor of The Lancet.
The launch was held at the Royal College of Physicians in London, England and was streamed live on the Lancet website.  Videos of the launch events are available on the Commission's website, along with the launch agenda.  There were also simultaneous launch briefings in Johannesburg, South Africa and Tunis, Tunisia.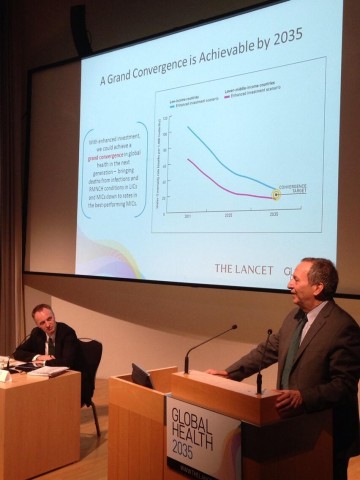 CIH Chair Lawrence Summers delivers opening remarks at December 3 launch event in London.
About the Commission 
The World Bank's 1993 World Development Report (WDR 1993), Investing in Health, is credited for having helped to place health firmly on the global development agenda. The report's central argument was that well-chosen health expenditures are an investment in economic prosperity and individual wellbeing rather than a drain on the economy. Healthier populations have better education outcomes and are more economically productive.
Prompted by the report's 20th anniversary, an international multi-disciplinary group of 25 Commissioners has been meeting since December 2012 to revisit the case for investing in health and examine it in light of current and future needs and opportunities. Specifically, the commission has been examining:
how the context for health investment has changed over the last 20 years
the national policy opportunities for low- and middle-income countries to achieve dramatic health gains over the next 20 years and to reduce illness-related poverty
the future role of international collective action for health, particularly in supporting research and development (R&D).