37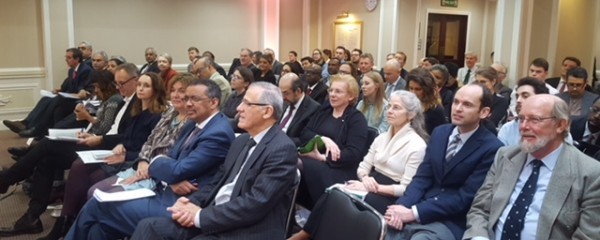 DCP3 Series Launched, Celebrated at Capstone Event
Disease Control Priorities, third edition (DCP3) is a nine-volume resource that provides up-to-date evidence on priorities that countries should consider in order to deliver Universal Health Coverage. The series was formally launched on December 6 at a standing-room only event in London co-hosted by The Lancet. The event began with keynote addresses from Richard Horton, editor-in-chief of The Lancet and member of the DCP3 Advisory Committee, and World Health Organization Director-General Dr. Tedros. In addition to serving as opportunity to disseminate DCP3 findings and key messages, the event was an occasion to celebrate the many contributions from the vast international community of authors, editors, reviews, and researchers who contributed time and expertise to this large-scale enterprise.
In his opening remarks, Richard Horton applauded DCP3 for taking an important step in outlining critical recommendations for priority setting for countries on the path toward universal health coverage. "DCP3 gives us the latest, most powerful evidence about what priorities should be considered by countries to deliver UHC," said Horton. "It gives options, it gives opportunities, and it gives a roadmap for countries to deliver coverage to their people."
Following Dr. Horton's remarks, Dr. Tedros, in his keynote address, emphasized that the smartest investments are those that prevent or delay hospitalization where costs are greatest and outcomes are poor, and noted that "improving health is not and cannot be just a job for health ministries." DCP3 provides policymakers with evidence-based findings on both intersectoral and health interventions to inform resource allocation.
The event also featured lead Series Editor Dr. Dean Jamison who provided an overview of the DCP enterprise, followed by three panels comprised of country representatives and researchers who discussed lessons that can be drawn from the DCP3 packages for decision makers, both within and outside of the health sector.
The event was video-recorded and is available to view below or on YouTube. All nine volumes of DCP3 and the seven accompanying Lancet articles are available for download open access by clicking the volume thumbnails above.