Copyright: IAEA Imagebank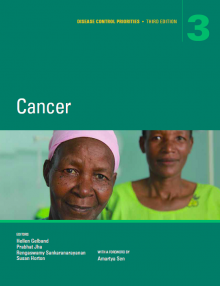 "The lesson that emerges from the well-aimed empirical analyses presented in this volume is not only that a major difference can be made in the incidence, management, and elimination of cancer, even in the poorer countries of the world, but that this can be done in cost-effective and affordable ways. Understanding and determination are the deficiencies most in need of change."
Lancet Article on Cancer
Published online 11 November, 2015
Introduction: 
Investments in cancer control—prevention, detection, diagnosis, surgery, other treatment, and palliative care—are increasingly needed in low-income and particularly in middle-income countries...
To Obtain Copies of the Cancer volume:

Download the entire volume from The World Bank 
Purchase copies of the volume from Amazon, in paperback or hardcover.
Volume citation: Gelband, H., P. Jha, R. Sankaranarayanan, and S. Horton, eds. 2015. Disease Control Priorities, third edition. Volume 3, Cancer. Washington, DC: World Bank.