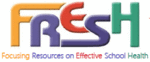 On Monday, April 16th, the FRESH initiative hosted a webinar on the topic of school health, and specifically the relevance of DCP3 Volume 8: Child and Adolescent Health and Development in school-based health packages. DCP3 Author and Volume 8 Editor Donald Bundy hosted this Webinar, first discussing the specific school-health package detailed in Volume 8, as well as moderating an open discussion with webinar participants. 
This session was part of the monthly Focusing Resources on Effective School Health (FRESH) webinar series, which is sponsored by an interagency effort. This series provides monthly presentations by leading policy makers, researchers, and implementators engaged in improving the health and education of children in low- and middle-income countries across the globe. This aims to identify best practices in school health initiatives, and are part of the larger "health promoting schools" initiative of the WHO.
Further details can be found here.
Event Details 
Date: Thursday, April 16th 
Time: 9:00 am EST 
Location: Online webinar, can join via Skype or phone