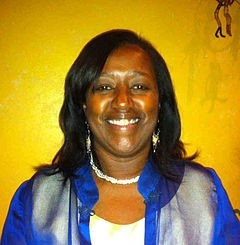 DCP3 Advisory Committee member and foreword author for the Mental, Neurological, and Substance Use Disorders volume, Minister of Health of Rwanda Dr. Agnes Binagwaho, contributed to a piece to the World Bank blog, "Investing in Health: News and Views in Healthy Development."  Dr. Binagwaho discusses her experience in Rwanda with the growing challenge of addressing, treating, and preventing mental illness.  Below is an excerpt from the piece:
"Around the world, mental health illnesses lurk in the shadows. Although they account for 10 percent of the global disease burden, they are left underestimated and unsup­ported worldwide.
A new book on the most effective approaches to this growing challenge is thus a welcome call to action. Mental, Neurological, and Substance Use Disorders is the fourth of nine volumes of Disease Control Priorities, third edition (DCP3), an up-to-date analysis of health interventions in developing countries published by the World Bank. In this volume, the world has in its hands a series of evidence-based approaches, cost-effective strategies, and implementation guidelines for MNS disorders.
This comprehensive review comes at an opportune time. Changing epidemiological and social determinant health profiles show the world's readiness for sustainable development goals (SDGs) to aim for universal health coverage. We, as global leaders, have a moral obligation to advocate for comprehensive, effective services backed by human-rights-oriented legal frameworks to protect those living with MNS disorders as part of this quest toward mean­ingful universal health coverage. Prioritizing the supply of quality MNS services at the community level while also improving the demand for such services must come with this advocacy effort."
Read the complete blog post here