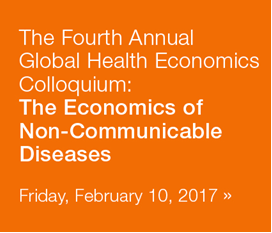 DCP3 editors and authors joined colleagues from around the globe at the fourth annual Global Health Economics Colloquium hosted at the University of California, San Francisco on February 10, 2017.  This year's topical focus is the economics of non-communicable diseases, and featured keynote address from DCP3 series editor Dr. Rachel Nugent. (pictured above). DCP3 chapter author and director of the UCSF Global Health Economics Consortium, Dr. James Kahn, opened the colloquium which aimed to bring together leading experts, policymakers, and researchers to address new developments and findings in the cost-effectiveness and economic evaluation of NCDs.
Other DCP3 contributors who served as panelists and moderators included Eran Bendavid (Stanford University), Colin Boyle (UCSF), Elliot Marseille (Health Strategies International), and Neelam Sekhri Feachem (UCSF).  
For more information, visit the Global Health Economics Consortium website. Follow the event on Twitter using #GHEcon2017.